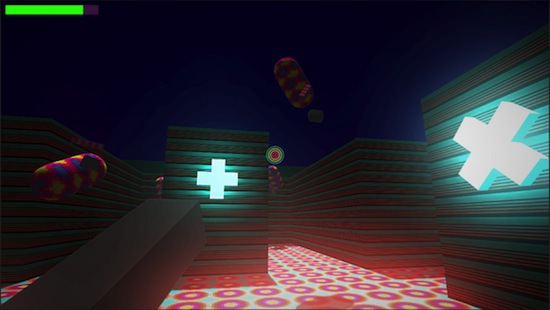 Fuck this Jam is the name of a game-jam, where the topic is about making games about a genre you hate. This is meant as a good design practice, to learn and build upon. The submissions for this game-jam were partly great.
I want to highlight the work from the Monochrom-art-collective from Vienna. They made a version of an ego-shooter, called Portraying The Terran Condition: An Approach To Simulate A Civilization. The game is about a "simulation of the humans on earth" for an alien race in a distant future. The game tries to emulate "human life" – but the scientists made many wrong assumption about how human life really was. It begins at the abstract looking landscapes. The game-designers about the game:
"This 7D (backwards compatible to 2D) world simulation depicts six different key events in the history of Terra ('Earth'), a low-tech civilization that self-destructed several aeons ago. Based on the relatively few biological and cultural artifacts, a team of multi-AI minds was able to recreate a stunningly accurate depiction of this ancient civilization."
This game is surprisingly well made, full off tension and crude humor. Indeed also the sound design is really great. There is so much words now, but nothing can replace playing the game itself.
Back to the Fuck this Jam: Feel free to browse the complete submissions of Fuck this Jam entries. Also read about other good entries of the Fuck this Jam at Rock Paper Shotgun (Recommended!).
Games
- Date published: November 25, 2012 |
Comments Off